These have been extraordinarily trying times, but staff at Avast have continued to pull together and demonstrate solidarity with each other and those in need. Julia Helena Szymanska leads Employee programs at the Avast Foundation and is at the center of co-ordinating the launch of the #GiveBack campaign, which goes live during April's National Volunteer month. Read on to find out more about the GiveBack campaign and how the Foundation which is the philanthropic arm of Avast is getting employees to centralise their volunteering effort.
What is the #Giveback programme and why are you launching it now?
The #GiveBack campaign goes to one of the fundamentals of Avast's company culture: sharing our passion to help others. After the extended period of the COVID pandemic and the current conflict in Ukraine, there is time to show our solidarity and do something good, by using our valuable set of skills, by supporting local communities via field volunteering and fundraising to the good causes. We are very excited about launching this platform to provide our staff with truly meaningful opportunities.
Why have you chosen the Alaya Good platform to be at the center of staff volunteering activity?
We were looking for a platform that will help us to provide a centralized "marketplace" to cover our specific needs. Our teams are spread in very diverse locations: from USA, UK, via Serbia, Slovakia, Germany or Czech Republic. We needed a truly global provider, with strong European presence, that would allow us to facilitate those local opportunities without extra administrative burden, yet safely and in a controlled environment. AlayaGood comes across as organization that fits this need
How does it work?
It's quite simple: Employees will log in, using SSO and set up their profile, to personalize their experience. They will receive access to all the volunteering and donation opportunities, marketed in the section: Do Good, according to the skills and interests they set up in the profile. Depending on the type of activity the user flow can be different: Donation goes straight to the beneficiary, like on any other fundraising platform, field volunteering is connected to the event with a particular date, that can be saved in their callender and they invite colleagues to join. When it comes to skills based volunteering or mentoring, human interaction is needed, to match mentors with mentees or agree on how and when our staff can contribute. So once Avast employee decide to participate they will click on "I want help" to be connected with the NGO and agree on further steps or to be
How important is volunteering to a company like Avast?
Volunteering is definitely a very strong part of the company culture and something long expressed by individual employees in their commitment to their communities and various causes. We are really excited that we're now giving greater support to facilitate volunteering opportunities as an organization. We're able to offer tools and connections to make use of the very valuable set of skills we have at Avast to help create a more equitable, free and inclusive digital space and to align volunteering with our company mission. It's a wonderful job, if you have such an engaged team. When we consulted with employees to learn about their preferences and insights, I was surprised how many people across the company already volunteer in their free time. When the conflict in Ukraine started we received hundreds of requests and offers of help. I even personally met someone while volunteering as a translator for Ukrainian refugees and discovered we are in fact colleagues!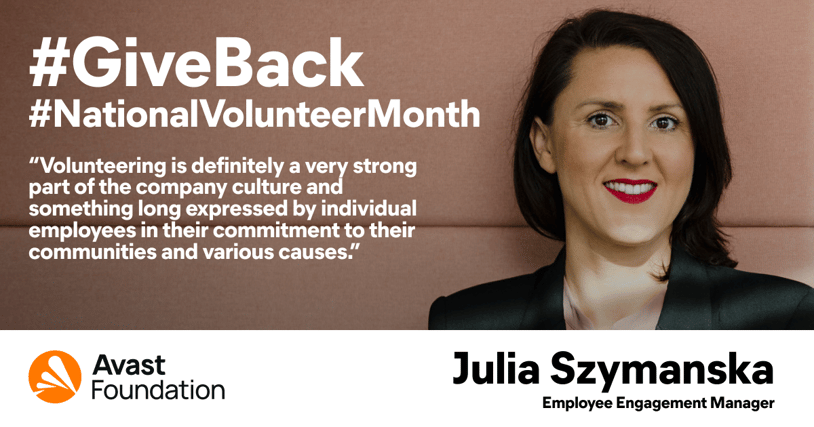 What are the benefits to the employees and the company?
The benefits to volunteering can be huge: starting from wellbeing, creating bonding among team members and with the organization that is genuinely allowing staff to do something meaningful with the connection of trusted partners. Engagement in organizations that provide employees with pro-social opportunities at work can be significantly higher than in organizations that do not offer such opportunities employees.
How do the NGOs and charities benefit from the volunteering effort?
It's essential for us that everyone in this relationship finds this engagement meaningful: NGOs and charities, their clients / beneficiaries and our employees. The NGOs receive funding and support to their work via volunteering and donation programs and very often those relationships are long term.
What was your first volunteering experience?
I was 14, when my friend and I volunteered to organize fundraising in our school to support WOSP, the biggest charity in Poland. Our parents helped us to bring the money to the NGO and they ended up taking it over from us. Back in the days they had a VHS video rental place in our town, where people were gathering and once a year they would open up and all the collected funds were donated to the WOSP. It was 25 years ago and my mom still runs it, organizing what is called a "Fundraising Finale" once a year on behalf of two towns. Last year my daughter and I registered as volunteers and joined her in this effort. So we can say it's already with the third generation in our family! :)