What does it mean to be a member of the YLB?
I joined this group of young people because I want to understand young people's needs on the internet and have the opportunity to provide relevant solutions accordingly.
Each member of the YLB brings a different mission. Why is empowering youth with relevant skills top of your agenda?
Growing up in a small town in Ghana, I was filled with dreams that were inspired by my environment. As a teenager, I observed many intelligent young people in my community struggle to acquire or even create jobs for themselves. Unfortunately, most had education, but were still not empowered with the appropriate life skills to enable them to live to their full potential or compete globally. Watching them graduate and yet struggle to find a fulfilling job fueled my career objective and my entrepreneurial drive to start Career1o1. This start-up provides capacity building programs to empower Ghanaian youth and prepare them adequately for the job market and entrepreneurship. Overall, we are designing alternative measures to solve the lack of real employment opportunities for youth, and the limitations most African youth both on the continent and in the diaspora face, in securing global opportunities.
Upon graduation, I was employed as the Youth Programs Director at Busy Ghana, a 4G internet service provider, where I developed a tailored series of programs aiming to provide final year students with life skills and work experience, which they otherwise lacked, prior to entering the job market. Students were trained in public speaking, entrepreneurship, and creative thinking among other subjects. I recruited students as writers, content providers, content editors and platform managers for the online portal. Some students were given the opportunity to participate in national fashion shows and other activities. This yielded substantial results in the period within which it was run, with some beneficiaries going on to be employed at multinational corporations.
What is the focus of your start up and how do you hope digital technology will make a difference?
With the increasing pace of globalization, it becomes clearer that the average Ghanaian student is no longer competing only with fellow Ghanaians for access to the economic opportunities that are springing up in the country. It is also evident that the scope of economic opportunities available after graduation is not limited to the geographic boundaries of a student's region - or even the country. With corporations seeking talents from every nook and cranny of the world and no longer being restricted to the countries they find themselves in, nationality is increasingly becoming a less dominant factor in employment decisions, which increases competition, but also grows opportunity The same is true for entrepreneurs: You are no longer the only one with the chance to come up with solutions to problems, but you may have greater access to additional opportunities..
Bearing this in mind, our services are designed to offer training programs, networking events and application clinics both virtually and in person, and also deliver content through our blogs to our target audience.
What drives you?
Ghana's educational system is largely a relic of the British Colonial administration, even some 60 years after independence. This characteristic of our educational system translates into a style of learning which is heavily dependent on rote learning with students being assessed on their ability to commit theories to memory and reproducing memorized information on paper, verbatim. This is done to the neglect of learning practical applications for knowledge.
As a result, the average Ghanaian student comes out of school hard pressed to find or create a job. The quiz mistress of Ghana's highly acclaimed National Science and Math Quiz shared that the winner of the 2017 competition could not compete at the international level because they could neither identify nor work with the tools and equipment they were presented with, despite knowing the theories very well. This phenomenon is a worrying one. Statistics available indicate that only 10% of university graduates get employed in the first year of their graduation (ISSER, 2017). With this in mind, I have always been driven by a desire to equip Ghanaian students with the requisite skill set to enable them thrive in the global economy.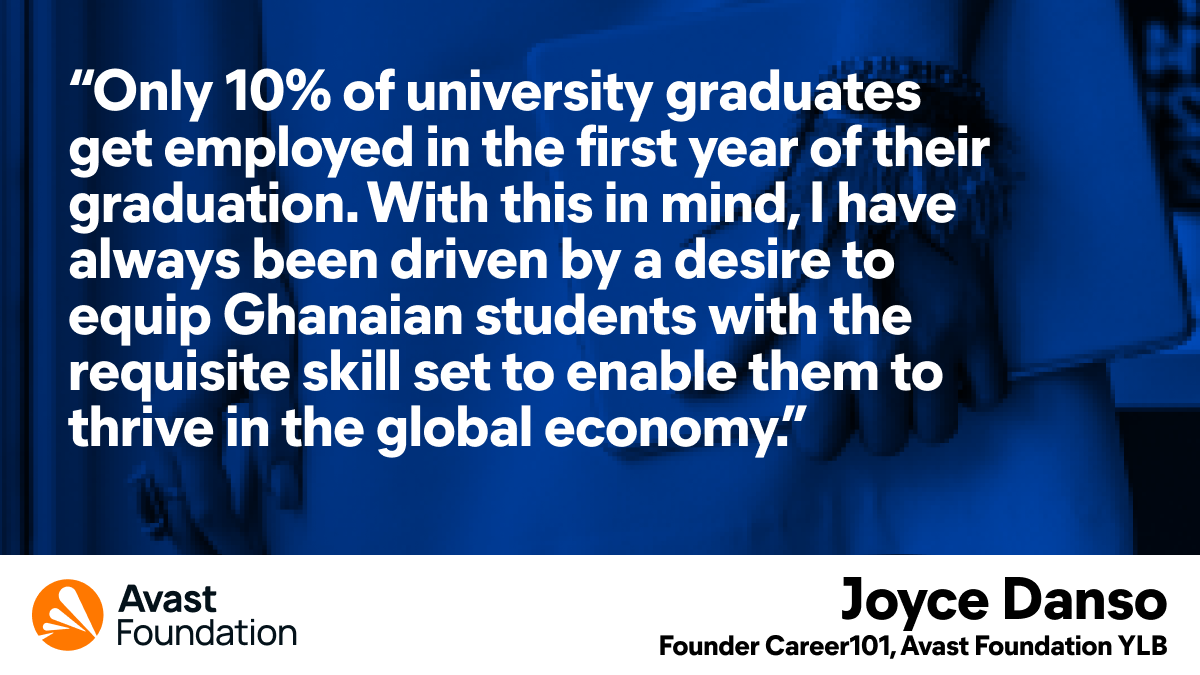 What are the challenges?
For us, limited access to internet connectivity for young people in rural and peri-urban communities means that we aren't able to reach everyone we would like to.
What future do you want to see for the young people your project is helping?
I want a future of hope for every young Ghanaian. With hope there is a quest to fight on. But without hope we give up on ourselves and downplay our talents.
In 2021, Career1o1 partnered with the University of Ghana's campus radio to produce a weekly campus radio show dubbed "the ideal students" series. I give weekly talks on topics ranging from character building, public speaking, interviewing skills, CV writing, maximizing internship opportunities, and more. The idea is to provide young people with information and practical skills they otherwise have limited access to. The radio station helps Career1o1 to reach a larger audience who may not have access to the Career101 portal due to limited internet access.
The Career1o1 portal serves as a go-to portal with career and personal development content tailored to fit the Ghanaian market. We share thecontent on WhatsApp and other platforms as well, to reach a wider audience who can benefit from it.
How can we engage youth citizenship to create social impact?
Providing opportunities for young people to make mistakes is important. I know this may seem controversial, but the culture to drive perfection and excellence is creating " an ideal impact story" which does not work for everyone. People can become easily discouraged if they don't have the room to make mistakes and the encouragement and validation to try again.
What does digital freedom mean to you?
Online safety is not a privilege, it's a right for every young person, and I pledge my support to helping young people be and feel safe online.