Throughout my career I've always been passionate about philanthropy and service. From my first volunteering experience working with young people with disabilities through my long association with the charity FutureMen to my most recent role with the UK National Lottery Fund distributing lottery funds to support charitable organisations of all kinds, philanthropy has defined my working life. I feel fortunate about the life I've been able to lead and want to support others to have similar opportunities to better their circumstances and create a positive impact.
When I first met Ondrej Vlcek to explore the possibility of leading the Avast Foundation, I was delighted to find that this corporate CEO deeply shared my passion for philanthropy - so much so that he's committed to baking it into the culture of the company.
He said, "I think all of us want to work for a company whose primary objective is not just to generate revenue." While we all recognize the business imperative to generate revenue, this understanding of a need for a deeper purpose resonated with me. His passion is infectious, too.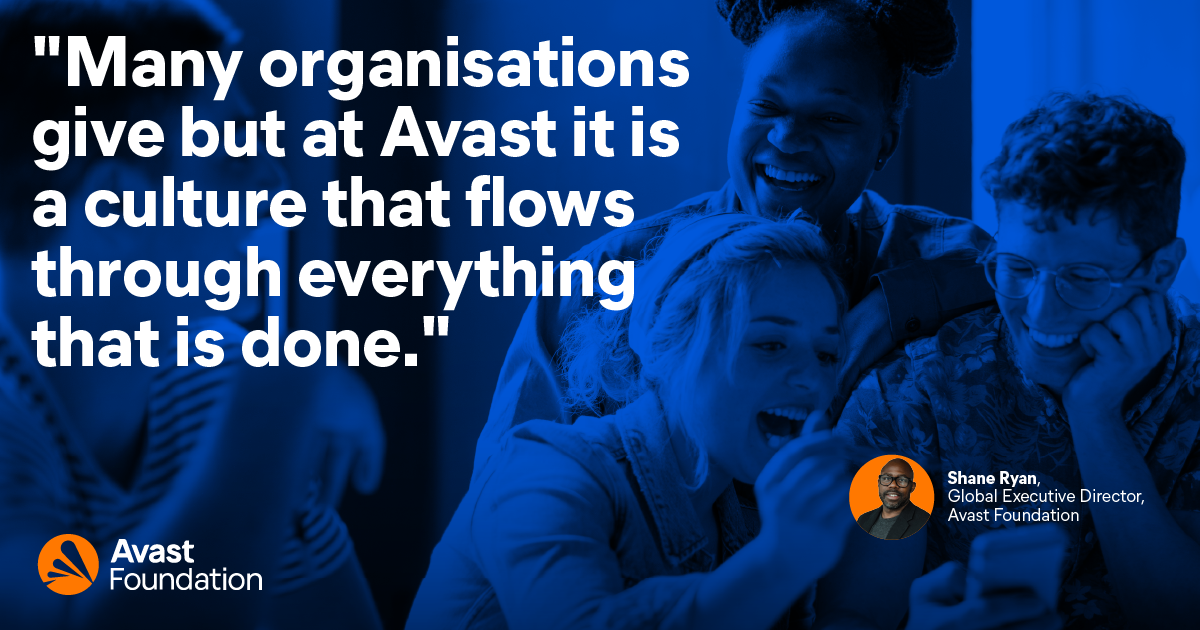 Thanks to Ondrej's vision, the company and its Board and executive leadership take the work of the Foundation seriously. But giving at Avast isn't only driven through the senior leadership, it's a golden thread that runs through the entire company. There is a long history of giving in the organisation, which has expanded and become increasingly international as the company has grown. Many organisations give, but at Avast it is a culture that flows through everything that is done. That, along with Ondrej's vision and commitment, is what compelled me to lead the foundation. Since the Russian invasion of Ukraine, the Avast Foundation, Avast, and the wider Avast community will have donated over $800k to organisations helping to relieve the ongoing humanitarian situation. Our support has included donations to People in Need both directly from the Avast Foundation and our employee donation matching program, and we continue to support Avast staff in volunteering their time and resources to the wider relief efforts.
Our employees have always responded to crises without hesitation. When a massive tornado tore through Czech Republic's South Moravia region in June 2021, Avastians from the local office in Brno immediately organised colleagues to begin donating money and sharing ways to help. The Avast Foundation supported these efforts with a public fundraiser that aimed to quickly raise $30,000 USD. Within days, Avastians and their friends and family exceeded the goal - ultimately raising over $67,000!
During the COVID lockdowns in the UK, I was moved that the entire leadership team made donations from their salary to support the NHS and Astrazeneca drive in the search for a vaccine - to the tune of millions of pounds. Hundreds of Avastians supported non-profit organisations around the globe, collecting $121,430, which was then matched 5x by Avast to provide $728,579 to 11 organisations across the globe to help local communities impacted by the pandemic.
If you speak to Avast staff it is in their DNA to volunteer. Routinely, Avastians dedicate their free time to support local organisations, and they often bring these organizations to our attention. We have several staff that act as ambassadors for the Foundation, and their input on the design and implementation of service opportunities for staff has been invaluable. I've been so pleased that the Avast leadership has embraced the idea of inclusive co-design in its employee programs, allowing us to ensure that staff co-create our programs in a way that works for them, the company, and our wider community. This is proving to be a very effective formula for generating collaboration and positive energy around our programs
Avast has leaned into philanthropy, creating an independent Foundation and donating one per cent of its profits to social causes. Through its ongoing collaboration with the Foundation on employee volunteering and donations, it's also showing that the ambition for a better digital future is far-reaching and genuine.