What makes you excited about working on Moonshot Platform?
I get so excited knowing we are discovering and supporting the next generation of changemakers. I think the Moonshot Platform is so different because of its inclusivity, everyone has a real shot and we want to support anyone with the drive and intention to create positive change. This principle makes working here so fulfilling and motivating. You get to meet and connect with the most amazing people from all around the world and truly feel like you are supporting these young changemakers. Everything is done with the right intentions and with a lot of heart -- you feel it in everything you do, and that's a really nice atmosphere to work in.
Tell us more about your job…
I am the community manager here at Moonshot. I am currently coordinating with the amazing lineup of judges who will be interviewing our semi-finalists. I also handle our social media channels, making sure we are connecting with our Moonshot followers and keeping them informed about what we are doing. I am also involved in all the communication channels (internally and externally) for Moonshot Awards.
What's it like working with the team?
The team has been incredibly great. It's such a diverse group of people from all walks of life and from all over the world. We have a very international team and everyone is so warm and hardworking, and because we all share the same values there is something to connect with, with everyone. It's so refreshing and exciting to get so many different perspectives as well, I just love the diversity of our teams.
It's a busy time for Moonshot Platform - we're speaking just days before the winners are announced - what excites you about what's coming up?
As I have been a part of the Moonshot Awards as it's developed and grown these past few months, what excites me the most is finally meeting these winners. We had more than 1500+ [and now 1800+!!) highly competitive submissions come through from 88 countries, so I can't wait to see who our real life Moonshotters will be. I also can't wait to follow them and see them grow and impact the world. Of course, I am also very excited about our Moonshot Festival in New York on November 17th. We have some really exciting programs, performances and amazing leaders all in one room, so it's something I am looking forward to very much.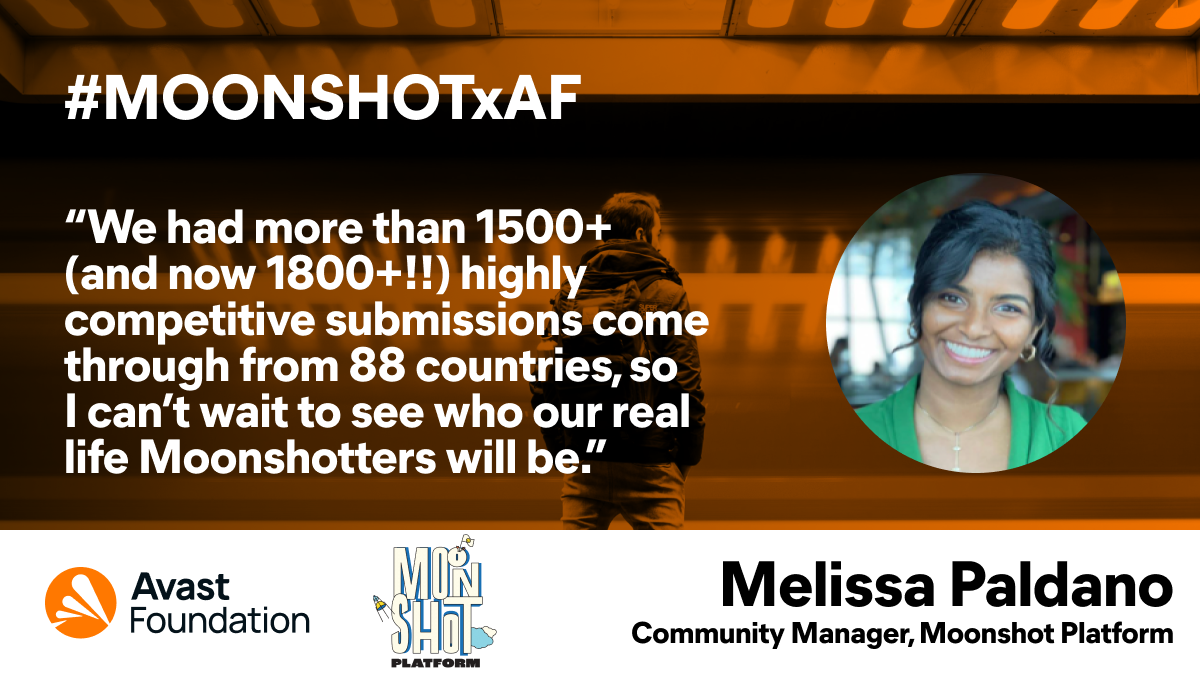 How do you think the Moonshot Platform will support changemakers of the future?
I think the Moonshot Platform can support the changemakers of the future in numerous ways, but what would be the strongest support we can provide is the network of opportunities and connections. So many people have joined and put their hand up to support Moonshot's journey and with that, it opens so many networking doors for our Moonshotters. For example, we are planning a Youth Leaders Camp next year, providing the network, support and learnings young changemakers are looking for.
What award category excites you the most?
That is a hard question, I would like to answer all of them, but if I had to choose I would say the Borderless category because I love the idea that something was created "by the people, for the people." We received so many applications from all around the world, all working to make a difference and a lasting positive impact, but in such a range of ways. From movements, to business, to expressions of art. You really get to see the creativity of people and how they found a way to make a difference and a connection.
Do you wish you could have applied?!
Yes definitely, if I had a great idea like so many of our applicants, I would have applied straight away. I think the Moonshot Platform offers the opportunity for young individuals to be recognised and this is something so important and not something you see everyday. But as I didn't apply, I am just as satisfied being a part of the team and supporting the next generation of change makers.