Film has always been a major component of my cultural diet. I've consumed it in bucket-loads over the years, seeking out queer stories that shine lights and give insights into LGBTQ+ experiences. Though to be honest, finding Brown queer films has often proved difficult. It's been a constant search for genuine representation away from the clichés, tropes, and stereotypes that all-too-often get platformed in both South Asian and LGBTQ+ circles. It's fair to say that the intersection of Brown queer stories has been underserved.
BFI Flare
BFI Flare, London's LGBTQIA+ Film Festival, is an annual pilgrimage for me. I'm always excited to see desi films in the programme and Flare 2022 feels like a record year for Brown LGBTQIA+ representation. Alongside Queer Parivaar (UK), seven other films were programmed with South Asian narratives: Coming Out with the Help of a Time Machine (USA), The Syed Family Xmas Eve Game Night (USA), SUNDAY (India), Muhafiz (India-UK), Trinity (UK), Yaha Waha (UK) and Flee (Afghanistan-France-Scandanavia). I attended Flare over several days to watch many of these films, pleasantly surprised by the breadth of storylines and the quality of the films, and buoyed by the fact many were made in the UK.
Flare 2022 came to an end for me with the Club Kali DJ night, the legendary South Asian LGBTQ+ club that delivers the best in 'Eastern meets Western' beats. It's a stalwart of the Flare calendar and much anticipated by festival crowds. Only this year it was extra special, partying with many of the Queer Parivaar family and celebrating in the knowledge that this film is a sure-fire hit. And here's why…
Queer Parivaar
Queer Parivaar (aka Queer Family) is a South Asian, bollywood-inspired, musical short celebrating queer love. It's a moving story that explores the powerful existence of interfaith romances, chosen families, and intergenerational differences. Directed by the multi-talented Shiva Raichandani, it challenges heteronormativity and forges a space for the narratives of South Asian trans, non-binary, and gender non-conforming identities.
The film enjoyed its world premiere in March at BFI Flare 2022 where it screened twice to sell out audiences. I attended both screenings and the reactions from the crowds both times were ones of rapturous applause. Queer Parivaar's visual representations of Brown queer joy and love are breathtakingly beautiful, truly uplifting and heart-warming. The film adeptly weaves inclusivity, safety, and empowerment throughout its DNA and absolutely delivers in layers and on levels. It's the UK film we wanted and the film we needed.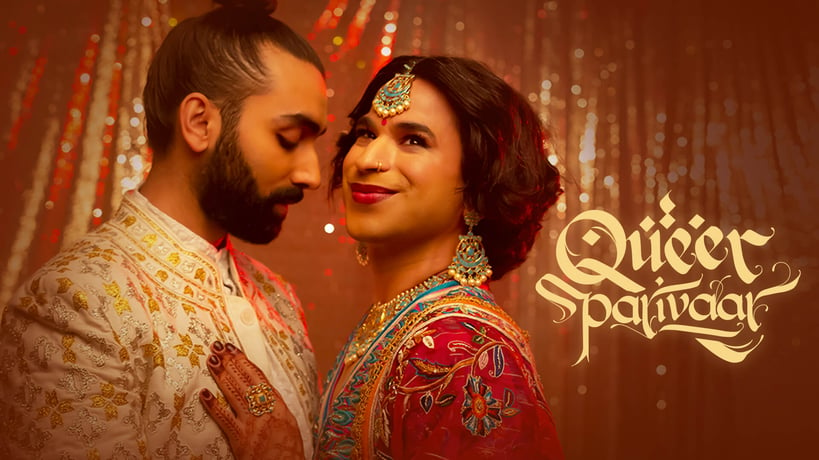 World Premiere
Watching the world premiere at Flare was a moment to rejoice. I had met Shiva Raichandani at a Bollywood event in 2019, where a number of prominent South Asian queer activists had convened. I already knew of Shiva's work as a dancer, choreographer, and social media influencer who was creating spaces for non-binary narratives, so I was honoured when Shiva approached me and spoke about their desire to make a desi queer film, and asked if I could spare some time to speak in confidence. I gladly agreed and arranged for us to chat over chai, where Shiva outlined the concept for Queer Parivaar — a love story like no other, filmed in the UK featuring a cast and crew of LGBTQIA+ creatives, and with an intergenerational twist.
I absolutely loved Shiva's concept. Having watched many South Asian diaspora films over the years, I was acutely aware of the lack of British made films, and particularly so where the narratives were positive and affirming. I shared some advice and tips, and promised to connect Shiva with others to help make their dream come true. I arranged a dinner where I introduced Shiva to Neeraj Churi, of Lotus Visual Productions, and Daniel Luther, Director of 'Queer' Asia Film Festival. With good food, cocktails, and ideas aplenty, the conversations turned to brainstorming, plotting, and planning. Our shared vision was to have Queer Parivaar premiering at BFI Flare!
That evening led to Lotus Visual Productions later becoming a Co-Producer and Neeraj joining Shiva's team as Line Producer. All credit must however go to Huma Qazi, the Executive Producer, who ultimately catapulted Queer Parivaar into orbit.
Shiva, Director, Co-writer and Co-Producer, created Queer Parivaar "…to let people be part of a film that brings queer identities and their wider intersections to the forefront. It is as important as it's beautiful. You can be desi, queer and religious; you can be in love and be loved; your story matters and deserves to be told."
Huma, Executive Producer, described the film as "…talented individuals that have come together to create something truly remarkable…a life-changing creative journey, to tell a beautiful and impactful story… [a] film about love, identity, family and our community…".
Neeraj, Co-Producer, hails Queer Parivaar as…"an ambitious vision for the South Asian queer community the world over, where one can be happy for whoever they are and who they love".
Lotus Visual also held a 'Desi Pride @ BFI Flare' event at the Nehru Centre, partnering with the High Commission of India and GIN (Gay Indian Network), breaking new ground in diaspora collaborations.
LGBTQ+ Solidarity
Film plays a massive part in cultural representation. It allows us to uncover the realities of people's lives, delve into real-world documented stories, and enjoy fictional portrayals of narratives we want to see. For the South Asian LGBTQ+ community, there's an ever growing sense of influence and power as we come together to collaborate and support each other. I'm particularly keen to take my own activism forward to harness and nurture what comes from intergenerational queer dialogue, whether that takes place in blood-related or chosen families, harnessing a sense of a much wider Brown queer community. This very much builds on my previous achievements as the Founder of Gaysians.
Gaysians x Film
I founded Gaysians to amplify positive narratives of the UK's South Asian queer community. I had the idea in 2013, and over the next five years, I brought activists, charities, and organisations together to unite under this new brand. I convinced others to share my vision; to see, hear, and feel the vibrations of our desi queer community recognised across mainstream platforms. Gaysians was a game-changer that I launched at Pride in London 2017. It quickly gained traction as it captured the zeitgeist and galvanised people's attention.
However, I was acutely aware at the lack of visibility for desi queer womxn. So I created a platform called 'Desi Lesbians' and curated the Gaysians' first solo event, a movie night held at the iconic Ritzy Brixton Cinema during LGBT+ HERstory Month 2018. I screened Signature Move (USA), a feel-good movie depicting an inter-faith, cross-cultural lesbian romance between an American-Pakistani and a Mexican-American, together with short film Little Elephant (UK), followed by a panel Q&A of brown womxn and a set by DJ Ritu of Club Kali. The event sold out and was an overwhelming success. I was then approached by the organisers of the renowned Women of the World Festival to programme the concept, and to have it included as 'Desi Lesbians: The Conversation Continues'.
It was at BFI Flare 2017 where I watched Signature Move, pleasantly surprised to see its world premiere headlining as the closing gala film. It was funny, moving, and filled with hope and I knew I had to screen it under Gaysians to a South Asian audience. The following year, I was delighted to announce that I'd secured Gaysians as a Community Partner for Flare 2018, alongside their queer Asian shorts titled 'Brown is the Warmest Colour'.
Also in 2018, I cemented a Gaysians partnership with London Indian Film Festival (LIFF) for their LGBTQ+ strand, a dynamic collaboration alongside 'Queer' Asia Film Festival and Club Kali. Along the way, I forged another partnership with Brixton Reel Film Festival's 'Too Desi Too Queer' (TDTQ) initiative – an extravaganza of South Asian LGBTQIA+ performing arts and short films celebrating community wellbeing. Over the years, I've chaired several post-film film Q&As and panel discussions with both LIFF and TDTQ.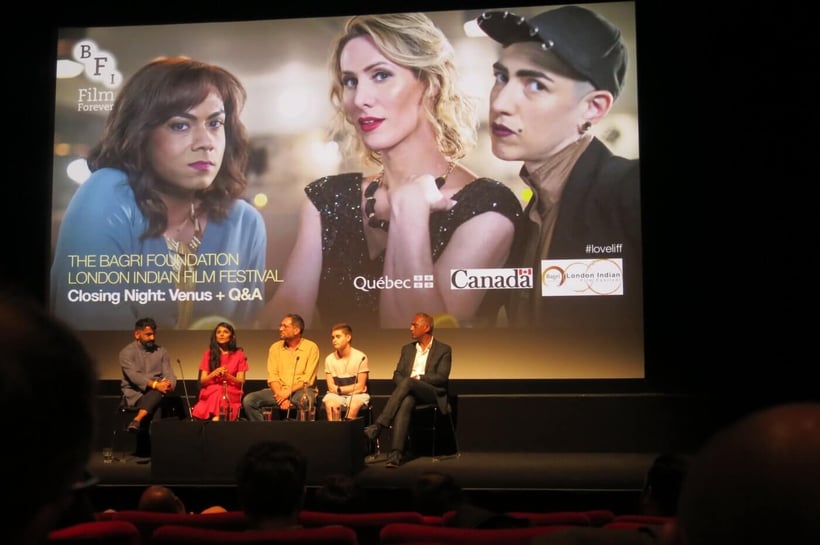 My hopes
On reflection, I firmly believe the desi queer movement is entering a new phase of self-affirmation, collaboration, and solidarity. I'm excited by the pipeline of film and creative projects that are being planned and executed. I'm proud to see the next generation of activists level-up the wider game across a multitude of platforms. It's exciting. It feels special, and I will continue to play my part in moving our community onwards and upwards - marching to the rallying call of 'Brown, Asian, Queer, Here!'